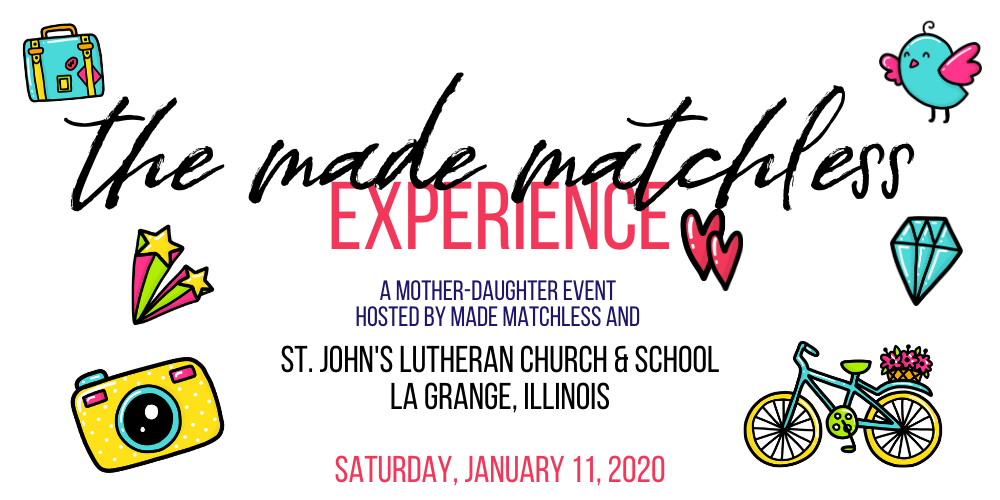 Did you know the average girl's confidence peaks at age 9? And with the world working 24/7 to convince us where our real identity and value lies, it's becoming harder for girls & women to know what to believe. More than ever, it's important to be equipped with the truth! Now there's help.
The Made Matchless Experience is an engaging, exciting event ideally for girls in grades 2-5 and their moms (or grandmother, aunt, or caretaker). It's an event aimed at helping girls and women embrace who God created them to be for unique work in his kingdom! This event is coming to St. John's Lutheran Church & School in La Grange, Illinois and guess what: you're invited to attend on Saturday, January 11, 2020!
At the Made Matchless Experience, you and your special girl will learn 9 "I Am Statements" that every girl and woman should know, based on God's Word. You'll spend time together in fun, meaningful activities and a craft that reinforce these truths. We'll engage together in large group times as well as one-on-one mom/daughter times & breakout sessions. Lunch will also be provided! This, and much more, await for you and your special girl at this exciting, inspiring, memorable event!
Ready to register? Great! Click the button below or head over towww.madematchless.com/events to register by December 30! While you're at it, feel free to subscribe to the Made Matchless newsletter if you like by clicking here. You can also download and share this printable flyer for the event!
For more details on the Made Matchless Experience visitwww.MadeMatchless.com/events . From there you can click on your specific event or click here. You'll also want to join us at our Facebook event (coming soon). For other specific questions, email Katie Pece.

Knowing the truth of who we are in Christ is vital to raising strong girls with thriving, purposeful spiritual lives. The Made Matchless Experience will help equip you to do just that. Can't wait to see you there!
Click here to register for the Made Matchless Experience
See below to pay for the Made Matchless Experience
Click here to download and print a flyer for the Made Matchless Experience in LaGrange!