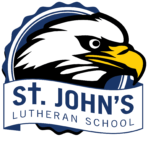 St. John's Lutheran School accepts enrollments year-round provided space is available. A non-refundable $150 enrollment fee per family is required.
All enrollment applications and fee(s) for new families submitted by April 15 for the next school year will guarantee a spot for the student. Enrollment applications received after April 15 will be accepted on a space-available basis and along with a non-refundable $250 enrollment fee.
All re-enrollment applications and fees for current St. John's families must be submitted by March 1 for the next school year. Applications received after March 1 will incur a $250 enrollment fee.
Applications may be submitted to the School Office or online to Admissions. The child's birth certificate and enrollment fee must be received within five (5) business days of submitted application.
All submitted applications will be reviewed by the Principal and families will be notified of next steps for the registration process.