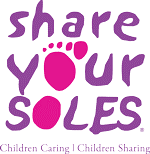 8th Grade Eagles in Action for April
Donate Shoes
We accept all types of footwear including:
GYM SHOES
SANDALS
BOOTS
ALL SIZES
MEN'S
WOMEN'S
CHILDREN'S
ANY KIND
ANY BRANDS
GENTLY WORN
The shoes are going to people who may have never even owned a pair. It's important that these shoes are in  good  condition to respect the dignity of those receiving them. Shoes older than five years old decompose, even if they were never worn.
So please: be respectful with your donations, understand that our goal is to provide good, clean shoes to those in need. For example, tennis shoes should include laces and not have holes. We  discard  any old overly worn shoes!
Over 3 million pairs of shoes delivered in 19 years.
No Boundaries. No Borders.
Boxes are located near the Narthex
and School Office.